Austrian farmer testimony show it's possible
Since their approval in the EU in the 1990s, neonicotinoids have been widely criticized, and then proven to be harmful to bees and other pollinators, as well as to biodiversity as a whole. Several studies also indicate the toxicity of these pesticides on human health. Following years of struggles by environmentalists, three neonicotinoids (imidacloprid, clothianidin and thiamethoxam) were recognized as toxic for bees and banned by the European Commission in 2018. 
However, various Member States, among others France, Belgium, Austria and Romania, have since then granted derogations to sugar beets producers, allowing them to use these harmful products in the context of "emergency authorizations", under the pressure of the sugar industry claiming that there is no alternative to ensure sugar beets production. 
In the following-up of this debate, we exchanged with an organic Austrian farmer, Walter Klingbrunner, who for years has been producing sugar beets without neonicotinoids. He told us everything about his crops and how he manages pests and weeds without the use of chemical pesticides.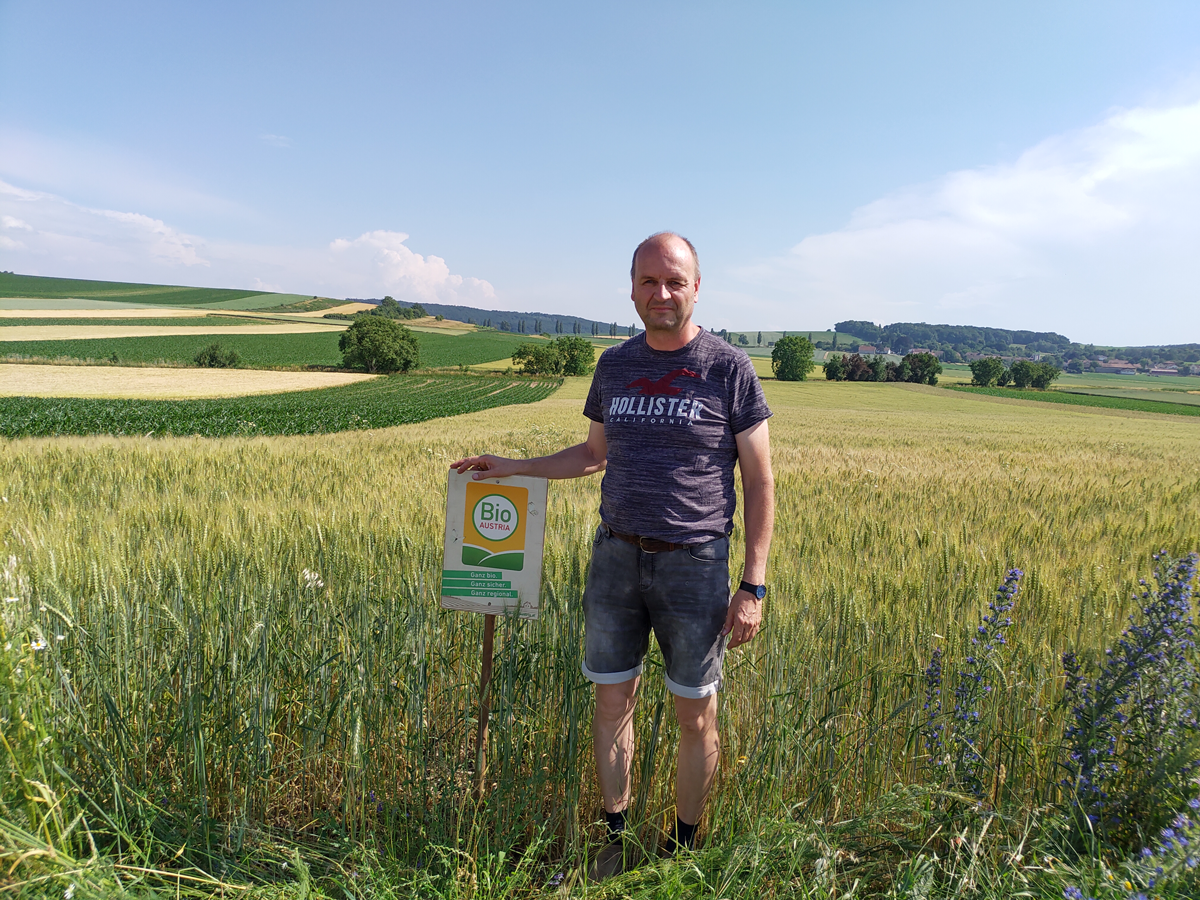 The sugar beet sector in Austria
Austria is one of the countries that delivered "emergency authorizations" to use neonicotinoids on conventionally-grown sugar beets crops. 
On the other hand, the organic sector represents 20% of farms overall, while the organic sugar beets represent a share of around 3% of the organic market (data from 2018). Since 2008, an Austrian sugar refinery has started a production of organic sugar made with beets from local producers. The  refinery has now become Europe's largest organic sugar producer. In this context, the organic sugar market offers good prospects for organic producers, who can count on a higher renumeration than in the conventional sector (around 90€/ton). 
Main challenges for growing organic sugar beets in Austria
Walter Klingbrunner has been growing organic sugar beets since 1990 on his farm in Michelhausen, Lower Austria. From 1990 to 2001, his sugar beets were grown organically but marketed conventionally. Since 2015, he started producing organic sugar beet again for a local sugar brand. His farm consists of 40 ha of arable land, 1 ha of meadows and 10 ha of forests. Sugar beets production covers 5 ha, on both owned and leased lands. Average yields vary from 40 t/ha to 78 t/ha depending on soil, rainfall distribution, droughts and success of weed control.
Sugar beet weevils are the pest causing the most problems in Austria, especially in recent years due to several prolonged dry periods. It has led to extensive losses on conventional farms and sometimes to total losses on organic farms. Moreover, they are able to migrate from the beet fields of the previous years.  
In the conventional Austrian sugar beets sector, aphids are kept in check with neonicotinoids that producers are allowed to use with an "emergency authorization". However, in the organic sugar beet production in Austria, aphids and the resulting yellow virus are not (yet) a problem at the moment. In Walter's farm, aphids occur only to a small extent and so far the yellow virus has not been able to spread in his beet crops. Moreover, black bean aphid is very widespread in Austria and occurs very frequently on beet fields that are not treated. Fortunately, the damage remains minimal, as beneficial insects such as ladybirds and hover flies regulate the lice within a short period of time. The green peach aphid has only appeared more prominently in a few fields in recent years. As a result, the yellow virus was not widely spread in organic sugar beets. 
Weed regulation is one of the biggest challenges in terms of costs, especially when there is a heavy rainy season.  
Pesticide-free solutions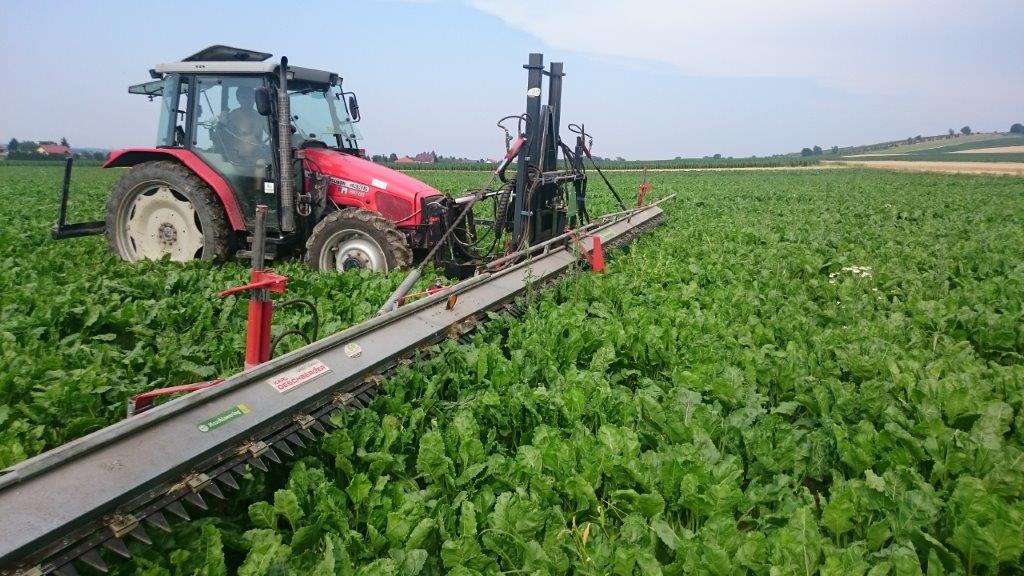 To keep pests in control, Walter Klingbrunner distracts the pests with pheromones and catch them in traps or buckets. He also manages them by practicing an early sowing of dense seed strips at the edge of the field in order to slow down migration. Essential prevention measures include growing tolerant varieties, and implementing crop rotation with a minimum spacing of 5-6 years. Copper can also be used in case of emergencies. 
Another solution is to use the existing landscape features to keep pests in check : on Walter's land, landscape structures are relatively small and there are many natural hedges, streams and banks. These landscapes features appear to naturally offer a good protection against pests such as aphids. Moreover, he tries to optimize the already existing features of the land in a targeted way : where these features are rare or absent, he tries to create windbreaks. In his own fields he also plants areas with flowering strips and weeds to attract insects that will act as natural counterparts to aphids and other pests. Indeed, the promotion of beneficial insects such as ground beetles is also a way to keep the weevils under control. However, in the last 3 years, a second cultivation was almost always necessary due to climatic conditions being particularly favorable to sugar beet weevils. 
Weed management is one of the biggest factor in terms of costs. On Walter's farm, weed  control is done mechanically, with in complement manual labour of 100 to 250 kilos per hectare. 
Prospects for the future?
According to Walter, there are very good prospects for the organic sugar beets to grow in Austria. As there is a decreasing acceptance of chemical pesticides among the population, alternatives have to be developed. "The sugar industry should reconsider the increasing concentration of beet cultivation in fewer and fewer regions around the factories", he says. In Austria, the fact that a local sugar refinery has started an organic production was in important factor in encouraging the transition to organic sugar beet crops cultivation and ensuring a fair income for producers, who have to be compensated for higher production costs.